Kermani-Style Pistachio Cake
Yield
8 servings.
Ingredients
1 cup sugar
1 cup pistachios kernels
4 eggs, separated (room temperature)
Zest of 1 orange
1 vanilla bean, split and scraped out, or ½ teaspoon vanilla extract
2 tablespoons rose water
1 cup plain yogurt
½ cup canola oil or unsalted butter
½ teaspoon sea salt
1½ teaspoon baking powder
1 teaspoon baking soda
2 cups unbleached all-purpose flour
Garnish:
¼ cup ground pistachios
½ teaspoon cardamom powder
2 tablespoons confectioners' sugar for dusting (optional)
Instructions
Place the oven rack in the center and preheat oven to 350°F (180°C). Butter an 8-inch spring form cake pan and line the base with parchment paper. Then butter and dust the top of the parchment paper. Pulse the sugar and pistachios in a food processor until finely ground. In a mixing bowl, whisk together the egg yolks, orange zest, vanilla, rose water, yogurt, and oil for about 5 minutes until creamy. Fold in the sugar and pistachio mixture using a rubber spatula. Sift together the salt, baking powder, baking soda, and flour onto a piece of wax paper. Use a rubber spatula to fold into the egg yolk mixture. In a separate mixing bowl, beat the egg whites until they form soft peaks and fold into the flour mixture until you have smooth batter. Gently pour the batter into the cake pan and bake in the preheated oven for 35 to 40 minutes until a tester comes out clean. Remove from the oven and allow to cool on a rack for 10 minutes. Tap the pan to release the cake. Turn the cake out onto the rack and remove the mold, peel off the parchment paper, and turn the cake over. Sprinkle the top with ground pistachios, and dust with cardamom powder and confectioners' sugar. Allow to cool completely, uncovered, to air-dry. Transfer to a serving platter.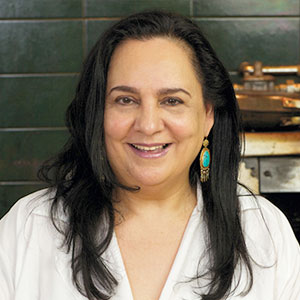 Today, Najmieh cooks, travels, and adapts authentic Persian recipes to tastes and techniques in the West.