Date Pie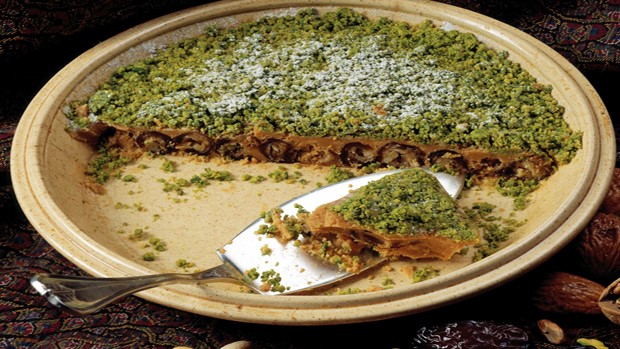 Yield
15 pieces
Ingredients
Filling:
1 cup coarsely chopped raw pistachio kernels
3 cups pitted dates
Roux:
1 cup oil or unsalted butter
1½ cups unbleached all-purpose
flour, sifted
Dusting:
1 teaspoon ground cinnamon
2 teaspoons ground cardamom
½ cup confectioners' sugar
Garnish:
1 cup ground pistachios or toasted shredded coconut
Instructions
In a wide skillet, toast the pistachios over medium heat for 1 to 2 minutes, shaking the skillet back and forth. Set aside and allow to cool. Stuff each date with a few pistachio kernels. Arrange the dates, packed next to each other, in a flat 9-inch pie dish. To make the roux: In a wide, deep skillet, heat the oil over medium heat, add the flour, and fry, stirring constantly for about 15 to 20 minutes until the mixture is a golden caramel color (beware to neither undercook nor overcook the flour). Spread the hot roux over the dates, pack down, and smooth out with the back of a spoon to create an even surface. Meanwhile, in a small bowl, mix together the cinnamon, cardamom, and confectioners' sugar. Sprinkle evenly over the pie while still warm. Sprinkle the ground pistachios evenly over the surface. Allow to cool thoroughly. Just before serving, cut in small pieces (traditionally diamond shaped). Carefully arrange these on a serving platter or serve on the same plate.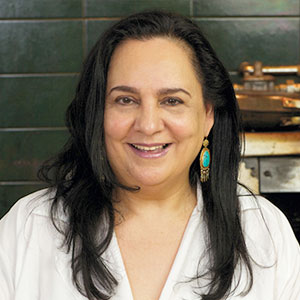 Today, Najmieh cooks, travels, and adapts authentic Persian recipes to tastes and techniques in the West.