Creole Black Skillet Pistachios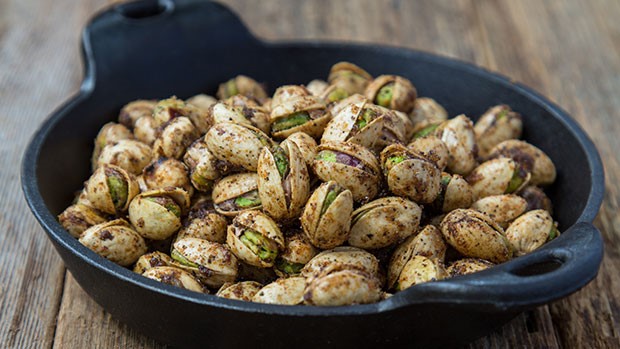 Ingredients
1 pound Roasted, salted in-shell pistachios
2 tablespoon Oil
2 tablespoons Garlic, Minced
2 tablespoons Louisiana Hot Sauce
1 tablespoon Worcestershire Sauce
2 tablespoons Bourbon
1 tablespoon Black Pepper
2 teaspoons Creole Spice
2 tablespoons Sugar
Instructions
Place a medium sized cast iron skillet on the stove over medium high heat for 3 minutes or until hot and starting to smoke. Bring all your pre-measured ingredients close to the stove since this recipe goes really quick and only takes about 30 seconds of cooking.
Add the oil to the black skillet and swirl across the bottom to coat. Add the garlic and swirl until the garlic starts to turn golden brown. Immediately add the hot sauce and Worcestershire and shake to reduce. Pull the pan away from the stove and deglaze with the whisky and swirl while returning to the stove to flambé.
When sauce is reduced, add the pistachios, shake in the black pepper, 2 teaspoons of creole seasoning and the sugar while tossing the pan to coat evenly. Remove the pistachios from the skillet and into a serving bowl so the seasoning doesn't become too dark or bitter.
Eat your pistachios like we would eat our crawfish, by first tasting the shell and all to get the seasoning, then peel off the shell to get the crunchy pistachio inside.