Carrot Halva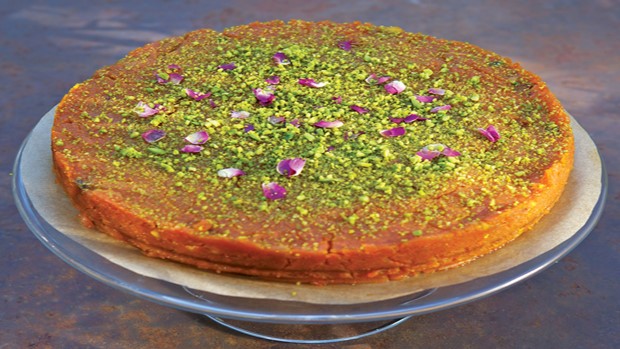 Yield
12 servings.
Ingredients
Carrot Halva with Rice Flour:
2 pounds carrots
2 cups sugar or grape molasses
1 cup canola oil or unsalted butter
2 cups sifted rice flour
½ teaspoon ground saffron dissolved in ½ cup rose water
1 tablespoon ground cardamom
Garnish:
¼ cup ground pistachios
2 tablespoons ground walnuts
2 tablespoons dried rose petals, crushed
¼ teaspoon ground cinnamon
Instructions
Wash, peel, and grate the carrots. Place in a saucepan and add 2 cups water and the sugar. Bring to a boil, stirring constantly until the sugar completely dissolves. Reduce heat to low, cover, and simmer for 30 minutes.
In a large Dutch oven, heat the oil over high heat and gradually add the rice flour while stirring constantly. Cook for 5 to 8 minutes or until the mixture turns lightly golden.
Reduce heat to low. Wear oven mitts and carefully add the cooked carrot to the hot rice flour (step back to avoid getting splashed). Add saffron-rose water and cardamom and cook over low heat for another 15 to 20 minutes, stirring quickly and constantly with a long wooden spoon to make a thick, smooth halva (the consistency of peanut butter).
Place a 10-inch ring on a flat serving platter and spoon the halva into it; pack firmly with a spoon. Garnish with ground pistachios, walnuts, rose petals, and cinnamon. Allow to cool, lift up the ring, then cover and chill in the refrigerator. Serve either as a main dish with lavash bread or alone as a dessert.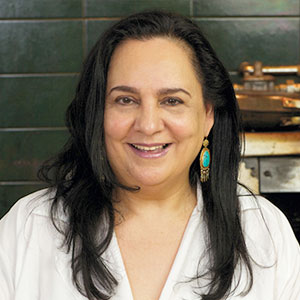 Today, Najmieh cooks, travels, and adapts authentic Persian recipes to tastes and techniques in the West.