Strawberry Copetta with Pistachio Gelato
By Dahlia Narvaez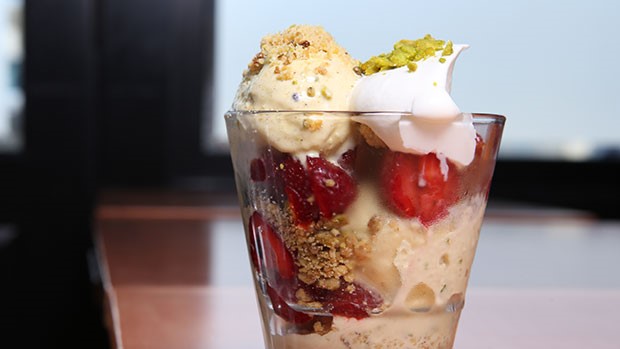 Ingredients
Toasted Pistachio Sbrisolona
1½ cup (8 ounces) whole, shelled pistachios
3 sticks (12 ounces) unsalted butter
¼ cup plus 2 tablespoons of granulated sugar
1¼ cup powdered sugar
1¼ cup semolina flour or polenta
1¾ cups unbleached all-purpose flour
1 teaspoon kosher salt
2 extra-large egg yolks
3 tablespoons orange flower water
Whipped Cream (makes about 2 cups)
1 cup of very cold heavy whipping cream
¼ cup plus 1 tablespoon of crème fraiche or sour cream
Macerated Strawberries
2 pints strawberries, hulled and sliced lengthwise
3 tablespoons granulated sugar
Zest of 1 orange
Instructions
Adjust oven rack to the middle position and preheat the oven to 325ºF.
Spread the pistachios on a baking sheet and toast in the oven until lightly browned, about 10 minutes. Shake the pan halfway through to ensure that the nuts toast evenly. Cool, then coarsely chop half of the pistachios.
In a small saucepan, clarify the butter by heating it over medium-high heat until it boils with large, rapidly bursting bubbles. Turn the heat down to medium and continue cooking about 5 to 7 minutes, without letting it brown, until the butter becomes foamy and the bubbles are few and quieter. Remove from the heat and transfer to a bowl to cool. Skim the foam off the top and pour or spoon about 1 cup of the clarified butter, leaving the milk solids at the bottom of the bowl. Refrigerate any leftover butter for another use.
Turn the oven up to 350ºF.
In the bowl of a food processor fitted with the steel blade, combine the whole pistachios with half of the granulated sugar and process until it's the consistency of fine meal. Add the remaining sugars, flours and salt, and pulse to incorporate. Add the egg yolks and flour, and pulse just to combine.
Add the cup of clarified butter and pulse on and off a few times until the mixture is just moistened, but does not come together. Transfer the dough to a mixing bowl and toss in the remaining chopped pistachios.
Put together a parchment-lined baking sheet. Pick up a handful of the dough, squeeze it together lightly in your fist, and crumble it in large chunks unto the baking sheet. Continue a handful at a time, crumbling the remaining dough.
Bake for 20 minutes, rotate the baking sheet and bake for another 20 minutes until lightly brown and firm to the touch. Cool completely and break up into uneven chunks.
To make the Whipped Cream, pour the whipping cream into a chilled bowl and whip it with a chilled whisk until it thickens to soft peaks. Do not over-whip the cream, as it will become curdled. Add the crème fraiche and gently beat until the whipped cream is thick and mousse-like. Use the cream, or cover the bowl and refrigerate until ready to serve (for up to several hours). Before serving, whip gently to stiffen if it separated.
To make the Macerated Strawberries, in a small bowl, add the strawberries and sugar. Using a microplane, zest the orange over the strawberries. Toss together with a spoon, set aside until ready to use.
In an 8 ounce glass, build the copetta by layering the different components above – starting with a layer of Sbrislona, then followed by a layer of gelato, a layer of strawberries and repeat until the glass is nearly full. Top off the copetta with a dollop of whipped cream and garnish with a sprinkling of crushed pistachios.