Whitefish with California Pistachio Sauce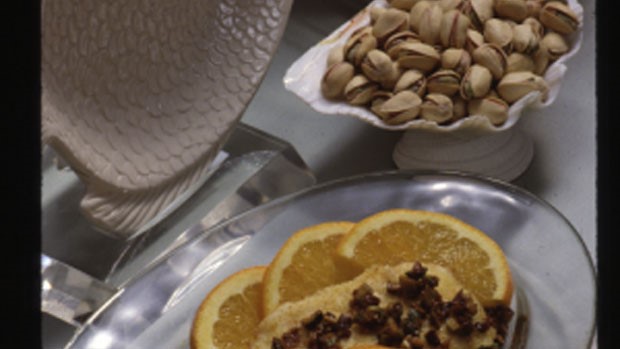 Makes 2 servings.
Ingredients
8 to 12 ounces Cod, halibut or snapper, thawed if necessary
2 tablespoons Cornmeal
⅛ teaspoon Pepper
Dash salt
3 tablespoons Butter, divided
3 tablespoons Roasted/salted American pistachios, chopped
2 tablespoons Dry white wine
1 teaspoon Lemon juice
Orange slices
Instructions
Cut fish into serving-sized pieces; dry thoroughly. Combine cornmeal, pepper and salt; dredge fish in mixture. Melt 2 tablespoons butter in large skillet. Sauté fish at medium-high heat allowing total cooking time of 10 minutes per inch thickness measured at its thickest part or until lightly browned on both sides and fish flakes easily when tested with a fork. Remove fish to warm platter; keep warm. Melt remaining butter in skillet. Add pistachios; cook and stir 1 to 2 minutes. Add wine and lemon juice; cook about 30 seconds longer. Pour sauce over fish; serve immediately. Recipe can be doubled.