Rye Bread Crouton with Soft Goat Cheese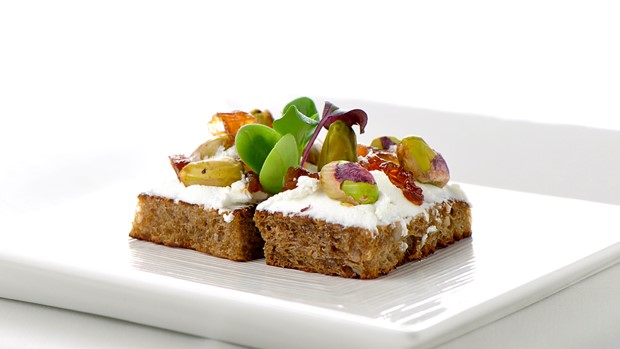 Yield: 4/6 servings
Ingredients
3 Fresh soft goat's cheeses
10 ounces Rye bread, sliced
1¼ cup Pistachios, toasted whole
5 ounces Onion preserve (ingredients):
- 3 cups Red onions
- 2/3 cup Granulated sugar
- ¼ cup of White wine
- 2 tablespoons Vinegar
- 1 Bay leaf
- 5 Grains pepper (black or white)
- 1 Clove
Instructions
Prepare preserve by cutting onions into very thin slices and marinating with other ingredients for 12 hours at room temperature. Pour mixture into a pan and cook until liquid has all boiled off.
Cut bread into 1½" squares, dress with oil and salt and toast in oven using grill function.
Dress soft goat's cheese with oil, salt and pepper and mix well.
Spread a layer of goat's cheese on croutons and decorate with onion preserve and pistachios.