Pistachios Celery Romanesco Soup with Pistachios and Chia Seeds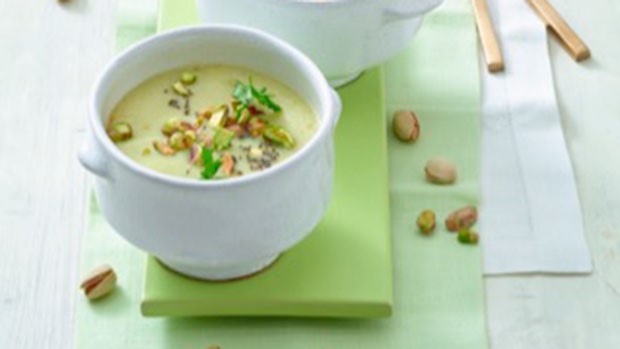 Ingredients
2 cups sliced celery
¾ cup cubed potatoes
¾ cup cubed parsley root
½ cup chopped onions
3 cups broccoli flowerets
2½ - 3 cups strong vegetable stock
1¼ cup unpeeled Californian pistachios
1 cup cream
Salt and pepper
1 tablespoon of chia seeds
Parsley for garnish
Instructions
Peel celery, potatoes, parsley roots and onions. Clean broccoli and divide into florets. Cut prepared vegetables and potatoes into large cubes. Boil vegetable stock and add vegetables. Simmer for 20 minutes. Remove pistachios from the shells and chop coarsely. Add cream and half of the pistachios to the soup and puree with a hand blender. Season with salt and pepper and spread into prepared cups. Garnish with remaining pistachios, chia seeds and parsley leaves.
 
---
Nutritional information per serving:
425 calories, 35 g fat, 16 g carbohydrates, 11 g E.