Pistachios & Pumpernickel Crunch on Ginger Tofu Mousse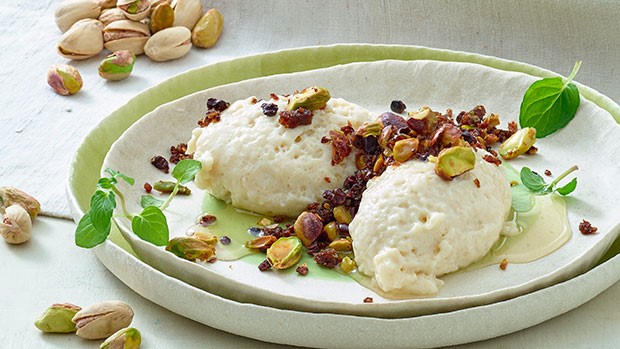 Yield: 4 Servings
Ingredients
3½ tbsp. ginger
1 organic lime
¼ cup sugar
¾ cup apple juice
1 pkg. silken tofu
1 cup Greek yogurt
2-3 tablespoons guar gum
¾ cup unpeeled Californian pistachios
2 slices pumpernickel bread
1 tablespoon butter
2 tablespoons cocoa nibs
2 tablespoons rice syrup
Mint for garnish
Instructions
1. Peel and finely chop the ginger. Wash the lime under hot water and finely grate the peel. Squeeze out the lime juice. Put the ginger, lime juice, lime peel, sugar and apple juice in a pot; bring to a boil and reduce the liquid to about half.
2. Let cool. Drain silken tofu in a fine sieve. Puree tofu, ginger syrup, yogurt and guar gum with a hand blender. Place the cream in the refrigerator for about an hour.
3. Remove pistachios from the shells. Chop the pistachios and pumpernickel. Melt the butter and roast the pistachios and pumpernickel. Mix with cocoa nibs.
4. Take the tofu cream out of the refrigerator. Shape the cream with two tablespoons and place onto a plate. Sprinkle with the pistachios and pumpernickel crunch; drizzle with rice syrup.
5. Garnish with mint and serve immediately.
 
Nutritional information per serving:
415 calories, 24 g fat, 34 g carbohydrates, 16 g E.