Pistachio Zucchini Zoodles Salad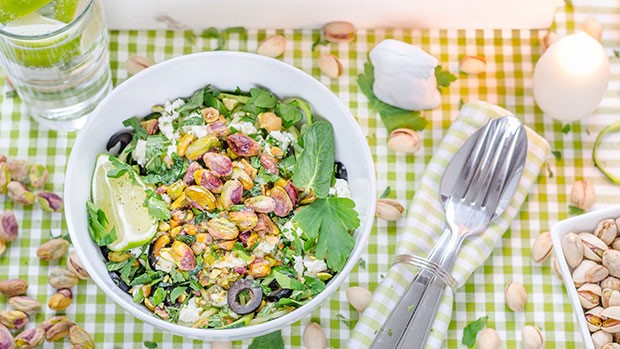 Yield: 4 servings
Ingredients
For the salad
4 zucchinis
1¾ cup feta, chopped into small cubes
1 handful black olives, without the pits, finely chopped
2 handfuls of cooked chick peas
1 handful salted unshelled pistachios, chopped
½ handful whole salted unshelled pistachios
1 bundle of parsley, chopped
1 bundle of mint, chopped
For the dressing
1 garlic clove, pressed
4 tablespoons olive oil
The juice of 1 lime
Sea salt
Fresh pepper
Instructions
Wash the zucchini and make into zoodles using a spiralizer. Cut with scissors if they are too long.
Mix the zoodles with feta, olives and chick peas and portion out into four bowls. Sprinkle on the herbs and the chopped and whole pistachios. Finally, sprinkle on the dressing made from pressed garlic, olive oil, lime juice, sea salt and fresh black pepper and serve immediately.
 
Nutritional Information per Serving:
435 calories, 16 g protein, 34.4 g fat, 12.6 g saturated fat, 19 g carbohydrates, 5 g fiber, 58.5 mg cholesterol, 809 mg sodium.