Pistachio, Oat and Cranberry Breakfast Pancakes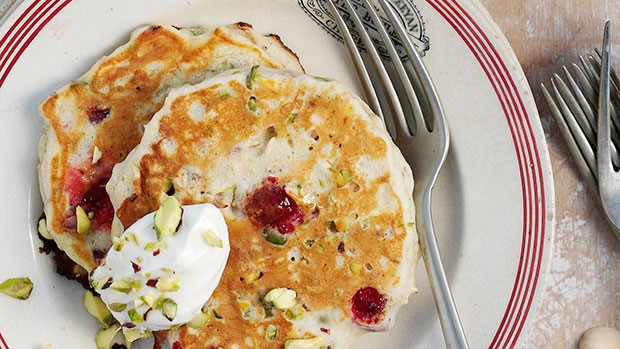 Yield:  12 pancakes
Ingredients
1 cup all-purpose flour
1 level teaspoon baking powder
½ cup porridge oats
2-3 level teaspoons caster sugar
½ cup shelled, unsalted pistachios, roughly chopped
½ cups cranberries
2 medium eggs, separated
1¼ cups buttermilk – see cook's tip
Rapeseed oil, for frying
Greek yogurt and summer berries, to serve
Instructions
Mix the flour and baking powder in a large bowl. Stir in the oats, sugar, pistachios and cranberries. Make a well in the center and beat in the egg yolks and buttermilk to make a thick batter (it should have the consistency of thick cream). Whisk the egg whites until stiff but not dry and fold into the batter.
Heat a griddle pan or large heavy-based non-stick frying pan over a moderate heat. Add a tiny drop of oil to the hot pan. When the pan is hot, drop a heaped teaspoon of the batter into the pan; flatten slightly with the back of the spoon so that the pancakes are about 4 inches in diameter and about ¼ inches thick.
Cook for about 2 minutes or until bubbles start to break on the surface and pancakes are firm enough to flip. Flip and cook for 1-2 minutes more, until they feel springy when prodded. Transfer to a warm oven while you cook the rest, adding more oil as necessary.
Cook's Tip
If you have trouble finding buttermilk you can use ½ cup of plain yogurt mixed with 1/3 cup 1% milk milk instead.
Preparation Time: 10 minutes
Cook: 15 minutes

Nutritional Information per serving (based on 12 servings):
139 calories, 5 g protein, 6 g fat, 0.8 g saturated fat, 16 g carbohydrates, 1 g fiber, 4 g sugar, 0.2 g sodium.