Pistachio Heart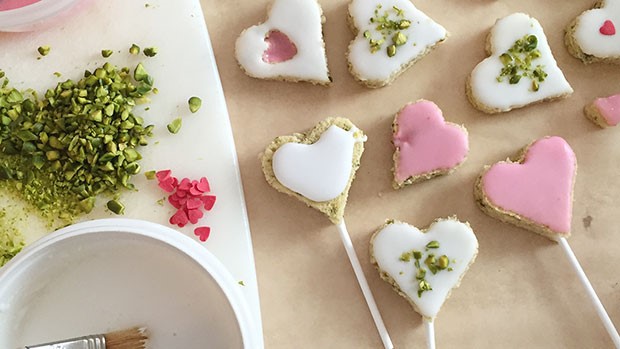 Yield: 50 hearts
Ingredients
1¼ cup all-purpose flour
1¼ cup spelt flour
4 tablespoons of baking soda
1 cup sugar
3 medium eggs
¾ cup canola oil
⅔ cup lemonade
¾ cup pistachios, shelled (half, coarsely chopped; the other half, finely chopped)
For decoration
Colored sugars
Red food coloring
Sugar heart
Chopped pistachios
Wooden or plastic sticks
Instructions
Line a baking sheet with parchment paper. Preheat the oven to 350°F. Put all the ingredients in a mixing bowl and mix with a hand mixer until smooth. Turn dough onto the baking sheet and spread evenly. Bake in a hot oven about 20 minutes. Remove from the oven and place on a second parchment paper on top. Peal upper parchment paper off to remove crumbs and let the cake cool slightly.
Use a small heart-shaped cookie cutter to cut out 50 hearts. For more variation, choose different sized heart shapes or cut out with smaller forms the center of the heart.
For decoration make a viscous icing from powdered sugar and a little water and fill it in two dishes. For the pink icing pour red food coloring into one bowl. For the heart on a wooden stick option dip a wooden stick about ¼ inch thick into the frosting and insert into the heart-shaped cookie. Allow to dry. Spread the heart with icing and sprinkle with chopped pistachios and decorate sugar hearts. Allow to dry. Optionally, spread the back with frosting.
Preparation: 90 minutes - Cooking time: 20-25min
By German food blogger, Mara, www.maraswunderland.de