Pistachio Green Tea Cake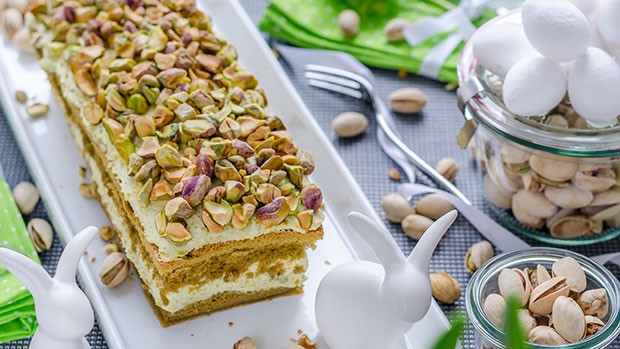 Yield: One tin loaf - 12 servings
Ingredients
For the batter
2½ teaspoons + ¼ cup sugar
⅓ cup all-purpose flour
¼ cup egg yolk
½ cup egg white
2 tablespoons oil
¼ teaspoon baking powder
2 tablespoons matcha tea powder
¾ cup boiling water
1 cup cold water
For the filling
16 ounces low fat cream cheese, softened
¾ cup ground roasted unshelled pistachios
1 tablespoon honey
2 handfuls of roasted unshelled pistachios, roughly chopped
Instructions
Grease a loaf tin and place some baking paper on the bottom.
In a bowl, add egg yolk with 2 ½ teaspoons sugar and stir with a whisk. Then stir in the oil.
Mix the matcha tea powder into a paste with ¾ cup boiling water. When there are no more lumps, stir in 1 cup cold water.
Add the tea mixture into the egg yolk and mix. Sieve 1/3 cup flour and mix into the batter with a whisk.
In a second bowl, whisk the egg white until foamy, using an electric hand mixer. Add the baking powder and continue to mix until a thick foam forms. Then add ¼ cup sugar and continue to whisk until the egg whites form peaks.
Using a spatula, fold the egg white into the egg yolk in two portions. Be careful not to beat the air out.
Pour the batter into the loaf tin and distribute evenly. Run a toothpick through the batter to eliminate any large air bubbles.
Bake the cake for 55 minutes at 320°F. Test with a skewer to check if it is ready.
Remove the cake from the oven and loosen around the edges of the loaf tin with a large knife. Remove from the tin and leave to cool on a cooling rack.
Preparing the filling:
Beat the cream cheese with a whisk until it has a nice creamy consistency. Stir in the ground pistachios and honey. Then place in the refrigerator until the next stage.
Once the cake has cooled, halve the cake lengthwise. Spread half of the filling onto the bottom half of the cake, then replace top half. Spread the remainder of the filling on top, and sprinkle top with chopped pistachios. Allow to cool again in the refrigerator before serving.

Nutritional Information per Serving:
230 calories, 8 g protein, 15 g fat, 5 g saturated fat, 16 g carbohydrates, 10 g sugars, 1 g fiber, 75 mg cholesterol, 165 mg sodium.