Pistachio Crusted Scotch Eggs
Ingredients
Oil for deep frying
4 large eggs, boiled for 7 minutes and peeled
1 lb seasoned pork sausage, casing removed
1 lb chorizo, casing removed
½ cup finely chopped pistachios
1 cup flour
2 large eggs, lightly beaten
2 cups bread crumbs
2 cup finely ground pistachios
Instructions
Preheat the oil in a deep-fryer or Dutch oven to 350 – 375 degrees F.
Place pork sausage, chorizo, and chopped pistachios in a bowl. Combine will until mixture is homogeneous. Divide sausage mixture into 4 portions, flatten each into a disc large enough to encase an egg. Wrap an egg in a disc of sausage meat, seal edges with a bit of water.
Place breadcrumbs and ground pistachios in a shallow bowl and mix to combine thoroughly.
Carefully roll the covered egg in flour, then beaten eggs, and finally the breadcrumb pistachio mixture. Repeat for remaining eggs. 
Deep-fry the eggs until golden brown, about 8 – 9 minutes. Transfer eggs to a paper lined plate. 
Copyright by Yan Can Cook, Inc. 2023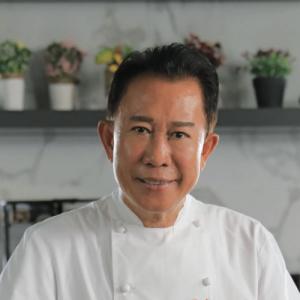 Spanning over four decades, celebrity Chef Martin Yan has traveled around the world, sharing the best of Chinese and American culture, food, and personal enrichment with multiple generations of audiences. His grand vision is shaped by more than 3,500 culinary and travel TV shows, 32 cookbooks, and several restaurants in North America and Asia, which include M.Y. China, a highly rated culinary hot spot in San Francisco.