Pistachio Apple Cranberry Crisp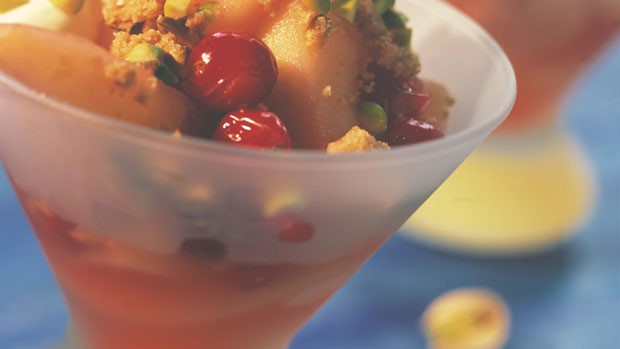 Yield: 8 - 12 servings.
Ingredients
3 pounds Tart pie apples, cored and sliced
½ cup Sugar
1 tablespoon Flour
2 tablespoons Lemon juice
1 tablespoon Grated lemon peel
1 cup Fresh cranberries
Topping
½ cup Natural American pistachios, chopped
¾ cup Sugar
½ cup Flour
6 tablespoons Butter or margarine
Whipped Cream (below)
Chopped pistachios, for garnish
Brandied Whipped Cream: Combine ½ pint whipping cream with 2 tablespoons each brandy and sugar. Beat until soft peaks form.
Instructions
Combine apples with sugar, flour, lemon juice and lemon peel in 8 1/2 x 12 1/2-inch nonmetal baking dish. Cover and cook at high power of microwave oven for five minutes, or until fragrant and nearly tender; or bake in conventional oven in glass or metal baking dish covered with foil (at 375° F. for 20-25 minutes or until cooked). Add cranberries and stir gently.
For topping, combine pistachios with sugar and flour. Cut in butter using pastry blender or two knives until topping is crumbly. Sprinkle over fruit mixture. Bake, uncovered, at 375 ° F. for 30 minutes or until hot and bubbly. Spoon warm or cold into attractive dessert dishes. Top with Brandied Whipped Cream and chopped pistachios.