Pistachio and Prune Tart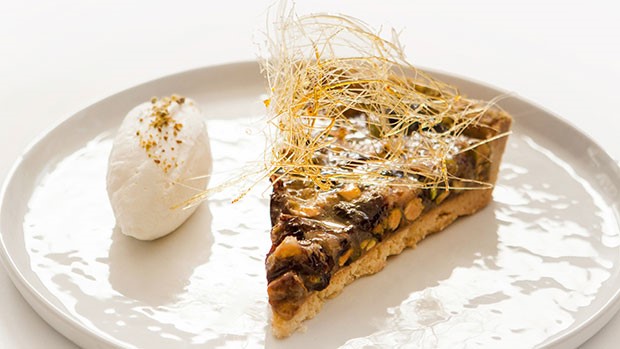 Yield
Serves 10-12 High Yield: 100-120
Ingredients
Crust

Metric
Grams
Original

Metric
High-
Volume

Yield %

Bakers %

Comments

Serves

10-12

100-120

 
 
 

Butter, unsalted

150 g

1500 g

29.59 %

58.82 %

Softened

Vanilla, seeds

2 g

20 g

0.39 %

0.78 %

1 vanilla bean yields about 2 g

Eggs, whole

100 g/ml

1000 g/ml

19.72 %

39.22 %

2 large eggs equals 100 ml/g

Flour, All-purpose

255 g

2550 g

50.30 %

100 %

 

Total

507 g

5070 g

100 %

198.82%

 
Filling

Metric
Grams
Original

Metric
High-
Volume

Yield %

Comments

Filling for

1 cake

10 cakes

 
 

Pistachios

200 g

2000 g

19.70 %

Coarsely chopped

Prunes

200 g

2000 g

19.70 %

Finely chopped

Sugar, granulated

300 g

3000 g

29.56 %

 

Cream, heavy

200 g

2000 g

19.70 %

 

Butter, unsalted

60 g

600 g

5.91 %

Room temperature

Water

55 g

550 g

5.42 %

Room temperature

Total

1015 g

10150 g

100 %

 
Instructions
Tart crust: combine the butter, vanilla bean and sugar in the mixing bowl; combine ingredients thoroughly with the paddle attachment. Slowly add the eggs and continue beating on low speed. Add the flour into the mixture and combine ingredients to form a smooth dough. Wrap the dough in plastic wrap and refrigerate for 2-3 hours or overnight.
Preheat an oven to 205⁰C. Butter and flour 28 cm x 3 cm Spring-form cake pan. Roll out the tart dough into a circle large enough to cover the bottom and sides of the mold. Press the dough into the pan, neatly trimming away any excess dough. Line the dough with parchment paper (the interior sides as well as the bottom) and fill with pie weights or lentils. Bake 15-20 minutes or until the crust is golden brown. Remove the parchment paper and weights and return tart shell to the oven for approximately 15-18 minutes. Set aside to cool completely.
Filling: combine water and sugar in a saucepan and bring to a boil. Continue boiling until the liquid begins to thicken and transform into a caramel color. Stir the cream rapidly into the boiling sugar, then add the butter and stir rapidly until the ingredients begin to form a caramel consistency. Add the pistachios and prunes and stir vigorously until all ingredients are thoroughly blended. Pour the pistachio and prune caramel into the tart shell and set it aside to cool completely before serving.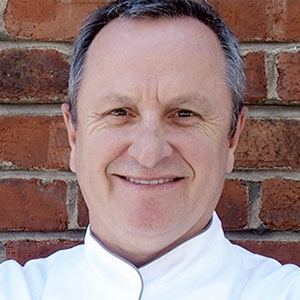 Chef / Owner, Piperade and Bocadillos, Williams-Sonoma Catering, San Francisco, California
Co-owner, Clos Pissara Winery, Catalonia, Spain
Member, Maitre Cuisinier de France
Recipient of Chevalier du Merite Agricole