Pasta with Garden-fresh Pistachio Cream Sauce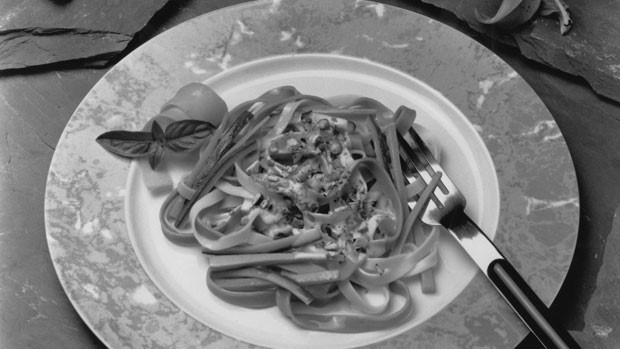 Yield: 2 servings.
Ingredients
1 cup Cream or half-and-half
½ cup Tightly packed fresh basil leaves, chopped
¼ teaspoon Salt
⅛ teaspoon White pepper
¾ cup Coarsely chopped, natural American pistachios, divided
½ cup Carrots, cut into thin strips (1½ inch x ¼ inch)
½ cup Zucchini, cut into thin strips (1½ inch x ¼ inch)
½ pound Fettuccini, cooked
Instructions
Combine cream, basil, salt and pepper in 4-cup glass measure. Place in microwave; cook on MEDIUM (50% power) 15 minutes or until mixture is thickened and slightly reduced. Remove from oven; stir in ½ cup pistachios and set aside. Place 2 connected white paper towels on counter. Spoon carrots and zucchini directly over perforation in center. Fold over both sides and the ends to enclose vegetables. Place on microwave-safe plate, perforated side up. Pour ¼ cup water over towel to moisten. Place in microwave; cook on HIGH 2 minutes. Carefully pull open perforation. Add carrots and zucchini to cream sauce. Serve over hot cooked pasta and sprinkle with remaining pistachios.