Olive, Pistachio and Pomegranate Salad
By Najmieh Batmanglij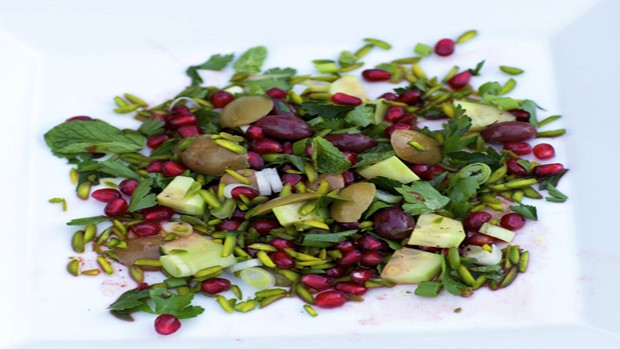 Yield:  4 servings.
Ingredients
Dressing:
½ teaspoon grape molasses
½ teaspoon pomegranate molasses
2 tablespoons fresh lime juice
¼ cup pomegranate juice
⅛ teaspoon red pepper flakes
1 teaspoon angelica powder (gol-par)
½ teaspoon sea salt
¼ teaspoon fresh ground pepper
2 tablespoons pistachio oil
2 tablespoons olive oil
Salad:
1 cup raw pistachio kernels, toasted
1 cup green pitted olives, chopped
1 cup pomegranate arils (about 1 large pomegranate)
4 Persian cucumbers or 1 American cucumber, peeled and diced
4 spring onions, green and white parts cleaned and chopped
2 tablespoons chopped fresh parsley or basil
2 tablespoons chopped fresh mint
Instructions
Preheat the oven to 350 ̊F., spread the pistachio kernels on a baking sheet and bake for 3 minutes.
In a salad bowl, prepare the dressing by whisking all the ingredients for the dressing and set aside.
Just before serving, add the salad ingredients to the dressing and toss well.