Chocolate Pistachio Crunch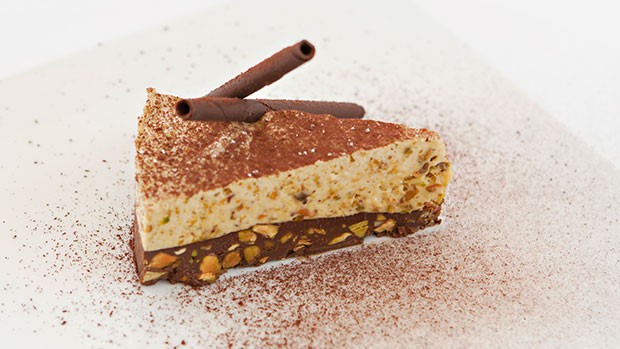 Yield
Serves 8-10 High Volume 80-100
Ingredients
| | | | | |
| --- | --- | --- | --- | --- |
| Crunch | Metric Grams (Original) | Metric High-Volume | Yield % |    Comments |
| Serves | 8-10 | 80-100 |   |   |
| Chocolate, dark | 200 g | 2000 g | 33.06 % |   |
| Oil, vegetable | 30 g | 300 g | 4.96 % |   |
| Pistachio, paste | 200 g | 2000 g | 33.06 % |   |
| Pistachios | 175 g | 1750 g | 28.93 % | Coarsely chopped |
| Total | 605 g | 6050 g | 100 % |   |
| | | | | |
| --- | --- | --- | --- | --- |
| Topping | Metric Grams (Original) | Metric High-Volume | Yield % |    Comments |
| Serves | 8-10 | 80-100 |   |   |
| Cream, heavy | 260 g | 2600 g | 47.71 % |   |
| Chocolate, white | 145 g | 1450 g | 26.61 % |   |
| Pistachio, paste | 40 g | 400 g | 7.34 % |   |
| Flour, pistachio | 100 g | 1000 g | 18.35 % |   |
| Total | 545 g | 5450 g | 100 % |   |
Instructions
Place a 20 cm x 5 cm ring mold on top of a 20 cm cake circle. Set both aside on a flat plate or other flat, moveable surface (sheet pan).
To make the "crunch", place the chocolate and oil in a medium size bowl over a double boiler and stir frequently until the chocolate is completely melted. Firmly whisk in the pistachio paste. Add the chopped pistachio and beat until ingredients are evenly dispersed. Pour the mixture inside of the prepared mold. Set aside in a refrigerator to cool until it is thoroughly chilled.
To prepare the topping, put the white chocolate into a medium size bowl and place over a double boiler. Stir just until melted, but make sure it doesn't get too hot; set aside. While the white chocolate is melting, whip the heavy cream in the bowl of an electric mixer fitted with the whisk attachment. Beat until the cream is light and fluffy. Add the pistachio paste to the melted white chocolate, making sure to combine the ingredients well and then firmly whisk the whipped cream and pistachio flour into the batter.
To finish making the dessert, remove the crunchy dark chocolate bottom from the refrigerator. Pour the white chocolate mixture on top of the crunch (which is still in the mold) and smooth the surface until it is flat and even. Return the mold to a refrigerator to chill for a minimum of 2 hours before serving.
Use a blow torch to un-mold the chocolate pistachio crunch; gently applying heat to the side of the cake until the cake slips out of the mold.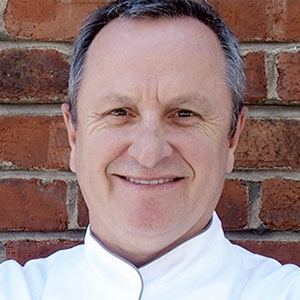 Chef / Owner, Piperade and Bocadillos, Williams-Sonoma Catering, San Francisco, California
Co-owner, Clos Pissara Winery, Catalonia, Spain
Member, Maitre Cuisinier de France
Recipient of Chevalier du Merite Agricole