American-style Pistachio Salad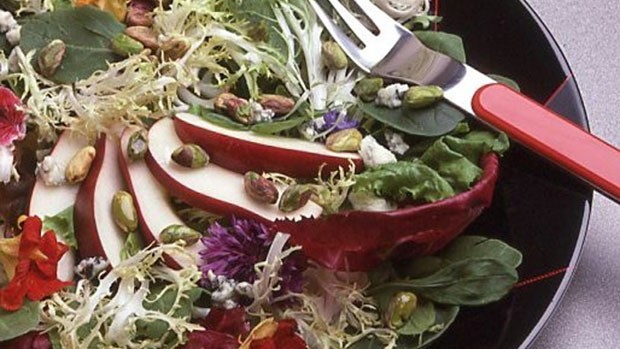 Yield: 4 servings.
Ingredients
1 clove Garlic, minced
1 teaspoon Dijon mustard
1 tablespoon Balsamic vinegar
6 tablespoons Orange juice (one orange, freshly squeezed)
3 cups Mixed baby greens (watercress, arugula, radicchio, curly endive and edible flowers)
1 Tart apple, quartered and sliced
½ cup Blue cheese, crumbled
1 cup Roasted/salted American pistachios
Instructions
Mix first four ingredients with wire whisk. Let set to mellow flavors. Wash and dry greens; divide equally among four salad plates. Divide apple, blue cheese and pistachios over salad. Drizzle salad dressing over each.