American Pistachio Bread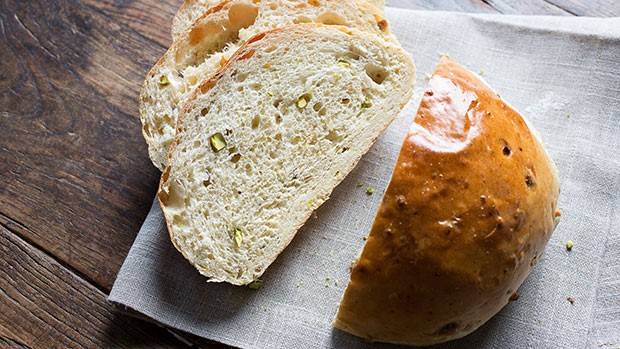 Yield
40 pieces @ 445 g (15.5 oz) each
Ingredients
| | | | | | |
| --- | --- | --- | --- | --- | --- |
| Dough | g/ml | lbs./oz | Baker's % | Yield % | Notes |
| Flour, bread | 1000 | 22 lbs | 100.00% | 53.76% |   |
| Vegetable shortening | 500 g | 1 lb 1.5 oz | 5.00% | 2.69% |   |
| Water | 5650 g | 12 lbs 8 oz | 56.50% | 30.38% |   |
| Yeast, compressed | 300 | 10.5 oz | 3.00 % | 1.61 % |   |
| Sugar, granulated | 300 | 10.5 oz | 3.00% | 1.61% |   |
| Salt, sea | 200 g | 7 oz | 2.00% | 1.08 % |   |
| Dough conditioner | 100 | 3.5 oz | 1.00 % | 0.54 % | optional |
| Malt powder | 50 g | 1.8 oz | 0.50 % | 0.27 % |   |
| Milk, dry | 500 g | 1 lb 1.5 oz | 5.00 % | 2.69 % |   |
| American Pistachios | 1000 g | 2 lbs 3 oz | 10.00 % | 5.38 % | Roasted, chopped |
| Total | 18600 g | 41 lbs 1 oz | 186.00% | 100.00% |   |
Instructions
Combine all ingredients, except the American Pistachios in a large mixing bowl. With dough hook mix on first gear for three minutes (pick-up stage). Stop the mixer and put gearshift into neutral. Scrape down the side of the bowl and check the dough consistency. Restart in third gear for seven more minutes. Add American Pistachios and mix on low speed until fully incorporated. Lightly dust the surface of a workbench and place the dough onto the surface. Cover to prevent the dough from drying out. Bench rest for 10 minutes. Punch the dough down and fold the dough over to release the gases and supply the yeast with new food. Bench rest additional 10 minutes.
Divide into 445 g (15.5 oz) pieces, round and cover. After 10 minutes bench rest, shape the bread again into rounds. Place into a prepared pan. Using a second pan of the same size, press the dough gently into the prepared pan. Apply egg wash.
Proof at low humidity 30-35°C (88-95° F) until the dough is tripled in size.
Bake at 190°C (375° F) with two seconds of steam for +- 30 minutes or until an internal temperature of 99° C (210° F) is reached.
Loosen with palette knife and remove the bread from the pans. Place on cooling rack and allow the bread to cool down to 38 °C (100 °F) before slicing or wrapping.
Notes
Malt powder can be replaced with malt syrup – you may need to adjust the dough consistency.
Coat the inside of the pans with pan release, for proper lubrication, so the bread does not stick to the pan and can be easily removed after baking.