Grilled Nectarine Chicken Kiev
By Chef Joe Cochran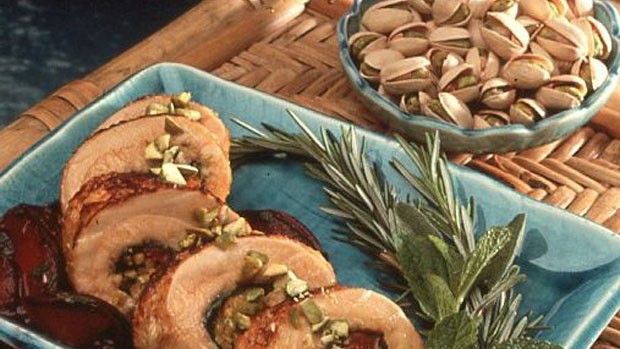 Ingredients
1 Double boneless breast of chicken
1 Fresh nectarine, peeled and slices
¼ cup Mozzarella cheese, cut length wise
3 Large, fresh spinach leaves
1 ounce Tomato, julienne sliced
½ teaspoon Fresh sage
¼ teaspoon Fresh rosemary
1 clove Garlic, minced
1 tablespoon Sliced green onion
Juice of one half lemon
Olive oil
Salt and pepper to taste
Instructions
Brush breast of chicken with olive oil. Season entire chicken, even under skin, with sage, rosemary, lemon juice and salt and pepper. Marinate for 2 hours. Place spinach leaves inside breast and fill with all other ingredients. Roll breast; secure with skewer.
To cook, use open grill or sauté in skillet until golden brown and skin becomes crispy. Finish cooking in oven at 350° F. for 20 minutes. Remove skewers and slice. Serve with plum compote.
*Recipe developed by Chef Joe Cochran, LOEWS, Santa Monica Beach Hotel.