Raviolis with American Pistachios
By Chef Stefania Corrado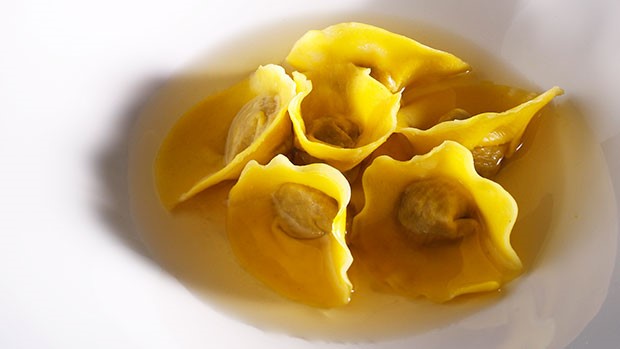 Ingredients
Raviolis:
4 ounces all-purpose flour
2 ounces semolina
4 egg yolks
4 eggs
A cap of vinegar
Salt to taste
2" - 2½" diameter pastry cutter
The Filling:
2 potatoes baked in foil
5 ounces toasted American pistachios unshelled
Nutmeg to taste
Salt to tase
Balsamic Stock:
Vegetable stock
Thyme to taste
Mint to taste
Licorice to taste
Salt and pepper to taste
Instructions
For the filling:
Toast the American pistachios for a few minutes, then mince them with the potatoes baked in the oven until it becomes a sauce. Add salt, if needed, pepper and nutmeg. Put the filling in a pastry bag and set aside.
For the balsamic stock:
Bring the vegetable stock to a boil; turn off the stove and make an infusion with aromatic herbs for ten minutes. Pass through a strainer and keep it warm before serving with the raviolis.
For the ravioli:
Knead all the ingredients with a pasta maker and let the dough rest in the refrigerator, covered with a wrap for about 30 minutes. Spread out the dough and, with the help of the pastry cutter, cut the dough and stuff with the filling. Close the ravioli. Parboil the ravioli for a few minutes in salted water and serve with the stock.