Queso Fundido al Pistachio with Tortillas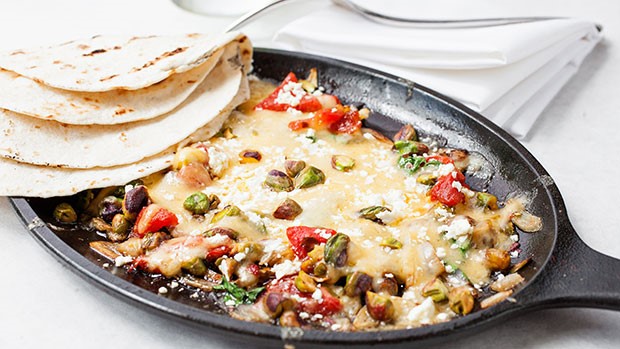 Yield
4 servings.
Ingredients
1 tablespoon Olive Oil
1 Large Tomato, cored, seeded and cut into ¼  inch pieces
1 Yellow Onion, cut into ¼  inch pieces
1 Poblano, cut into ¼  inch pieces
8 ounces Mexican Melting Cheese (Queso Quesadilla)
1 ounce Cotija Cheese
½ cup Cilantro, remove stems and chop
½ cup Toasted and salted shelled pistachios
Instructions
In a large skillet heat olive oil on high heat. Add tomato, onion, chiles and cook until slightly browned. Reduce heat to medium low. Sprinkle cheese over the sauteed vegetables. Stir until just combined and melted. Remove from heat and serve in skillet or in a warm ceramic bowl. Garnish with cilantro and toasted salted pistachios. Serve with warm flour tortillas or crisp tortilla chips.