Pistachio Ice Cream
By: Sweet Paul Magazine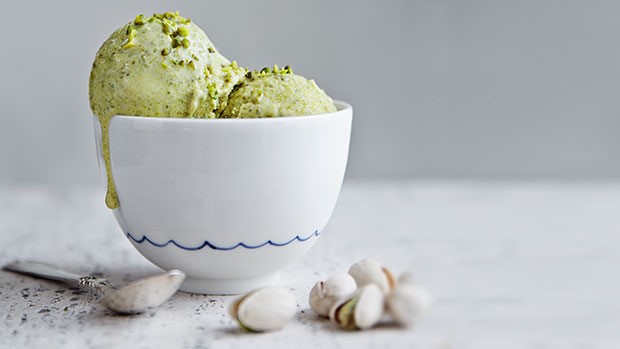 Yields: 4
Ingredients
4.6 oz pistachios, unsalted
1 cup whole milk
0.6 cup heavy cream
4 egg yolks
⅓ cup sugar
1 tablespoon Amaretto liqueur
Instructions
The Day Before: Slightly roast the pistachios in a pan.
Bring the milk and cream to boil.
Remove from heat and immediately add the pistachios.
Cool down and let the pistachios soak in the milk-cream mixture overnight in the fridge.
The Next Day: Remove the pistachios from the milk-cream mixture into a food processor and pulse on high speed until it turns into a smooth paste.
Bring the milk-cream mixture to boil.
Beat the egg yolks and sugar in a bowl with an electric hand mixer until thick and fluffy.
As soon as the milk and cream are boiling, pour onto the eggs, stirring constantly with a whisk.
Pour the custard mixture back into the casserole and cook over low heat, stirring constantly with a wooden spoon, until it thickens. It should be around 181°F.
Cool the cream down in a water bath with ice cubes.
Stir in the pistachio paste and turn the cream into ice cream in an ice cream machine.