Gragnano Big Spaghetti, American Pistachios Pesto and Red Shrimps of Porto Santo Spirito Marinated with Lime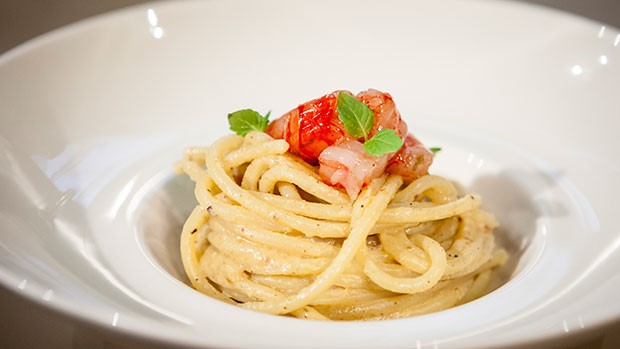 Yield:  Serves 4
Ingredients
2½ cups Americans pistachios, whole and unroasted
½ cup unroasted pine nuts
extra virgin olive oil
salt to taste
8 prawns of Porto Santo Spirito
2 limes (juiced and zested)
Sichuan pepper
0.70 ounces of Gragnano big spaghetti
Instructions
Toast pistachios and pine nuts in a pan, until they are well colored. Put them in a blender with a little oil and salt to taste; blend the mixture.
Clean the prawns, removing the heads and the central filament; in a bowl, marinate them with oil, the zest and lime juice, and Sichuan pepper. Cover the bowl with plastic wrap and refrigerate for 15 minutes.
Cook the spaghetti in plenty of boiling, salted water to al dente. Transfer the spaghetti and some of the cooking water to a saucepan. Add the pistachio mix. Finish the cooking until creamy. Serve with red shrimps marinated in lime and Sichuan pepper.