Calamari Salad Sautéed with Warm Pistachio Vinaigrette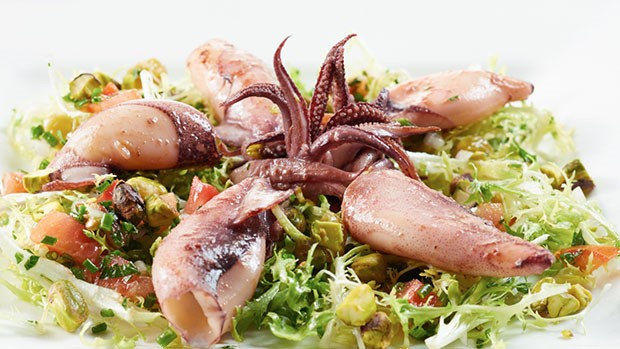 Yield
4 Servings
Ingredients
¼ cup + 2 tablespoons olive oil
8 calamari tubes and tentacles, cleaned (approximately 10-12 oz.)
2 small heads frisee greens, trimmed and washed
2 small roma tomatoes, cubed
⅓ cup golden raisins (re-hydrated in warm water for 1 hour)
1 tbsp parsley
1 tbsp chives
Salt and freshly ground pepper
⅓ cup unsalted pistachio kernels, coarsely chopped
2 tablespoons sherry vinegar
Instructions
Warm ¼ cup olive oil in medium-sized sauté pan over high heat. Place the calamari in the pan and sauté over high heat for 2 to 3 minutes, or until the calamari firms to the touch.
Remove from the heat aside.
Combine the frisée and tomato in a large mixing bowl. Add the raisins, parsley, chives and calamari and combine gently but thoroughly. Season with salt and pepper to taste and set aside.
Warm 2 tablespoons olive oil in a medium sauté pan over medium-high heat. Add the chopped pistachios, sprinkle with salt and pepper and sauté until the nuts begin to brown, approx. 2 minutes. Immediately deglaze the pan with the sherry vinegar (be careful of hot oil splattering when adding the vinegar), stir briskly, remove the pan from the heat and pour the vinaigrette directly over the salad. Toss and serve immediately.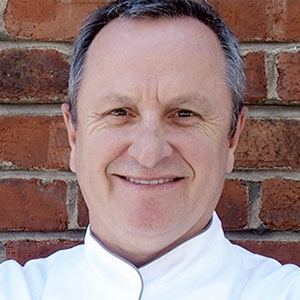 Chef / Owner, Piperade and Bocadillos, Williams-Sonoma Catering, San Francisco, California
Co-owner, Clos Pissara Winery, Catalonia, Spain
Member, Maitre Cuisinier de France
Recipient of Chevalier du Merite Agricole