"Ajo verde," Chilled Pistachio and Herb Gazpacho with Grapes & Aleppo Pepper
Watch Chef Seamus Mullen create this delicious recipe with Pistachios below:
Yield
4
Ingredients
1-1/2 cups shelled pistachios, soaked in water overnight
2 TBSP extra virgin olive oil
2 small shallots, minced
1 bulb fennel, finely diced
1 large garlic clove, minced
1 cup fennel fronds
¼ cup basil leaves
¼ cup parsley
12 cups cold vegetable stock or water 
2 TBSP white balsamic vinegar
½ cup extra virgin olive oil
Salt and pepper to taste
¼ cup Concord grapes, to garnish
¼ cup mixed herbs like tarragon, mint, chives and fennel fronds to garnish
1/2 cup toasted pistachios, roughly chopped to garnish
1 tsp Aleppo pepper
Instructions
Soak the pistachios overnight in a bowl in the fridge, covered with cold water, then strain and discard the water.
In a large pot, heat 2 TBSP olive oil over medium heat and add the shallot, fennel and garlic and sweat until translucent and cooked through, about 10 minutes. Set aside to cool.


 
Once cool, add to a Vitamix with soaked pistachios, fennel fronds, herbs and water/vegetable stock. Process until smooth on-the highest speed. Reduce the speed of the blender and slowly drizzle in the ½ cup extra virgin olive oil. Season with salt, pepper and white balsamic, adjusting to your taste.
Divide amongst 4 chilled bowls, garnish with grapes, toasted pistachios, a sprinkle of Aleppo pepper, a drizzle of good olive oil and mixed herbs.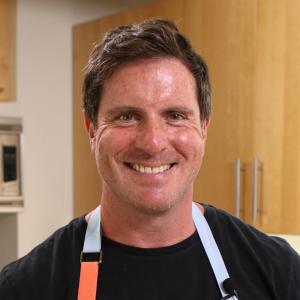 Seamus Mullen is an award-winning New York chef, restaurateur and cookbook author known for his inventive yet approachable Spanish cuisine, he is also a leading authority on health and wellness.