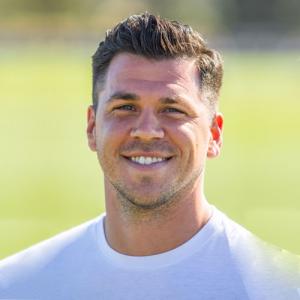 Joey Blake, Head Team Dietitian, says smart snacking, prioritizing recovery with whole foods, and a consistent nutrition plan are key to sports nutrition for athletes at all levels. Blake recommends pistachios as a post-workout snack because they're rich in potassium—an electrolyte lost through sweat. A one-ounce serving of pistachios actually has as much potassium as half of a large banana. According to Blake, "Fruits, vegetables, and nuts, such as pistachios, all have electrolytes that can replenish electrolyte stores after training sessions."

Three Strategies to Prepare for a Winning Season
Joey Blake, Head Team Dietitian, shares his three key strategies to ensure athletes are prepared for a championship season.
Snack with Purpose
Keep the pantry filled with nutrient-dense foods that pack the right balance of carbohydrates, healthy fats and protein. Athletes, just like other people with busy schedules, sometimes cheat on their meal plans due to schedule demands. According to Joey, being calculated about snacking makes it easier to stick with the plan. 
Prioritize Recovery and Whole Foods
After a big competition, athletes will often turn to high-calorie, nutrient-poor foods like pizza and chicken wings. The game is over and they're hungry. But choosing fast-foods robs them of the opportunity to support recovery, which relies on nutrient-rich whole foods. Joey says, "Many people don't realize that fruits, vegetables, and nuts all have electrolytes that can replenish electrolyte stores after training sessions."
Be Consistent
Consistency is the key to preparing the body to perform at its highest level. According to Joey, "Whether it's pre-season game number 1, regular season game number 10, or the championship, consistently eating nutrient-dense whole food like pistachios can bolster performance."
Joey's Go-To Meals
Breakfast requires a balance of simple carbs, healthy fats and protein. A toppings bar, complete with fruits, healthy nuts and seeds adds nutritional variety to oatmeal.
Consistent protein intake, vital for healthy muscle growth, can be found in chicken, lamb, and fish that is encrusted with chopped pistachios, adding both protein and healthy fats.
For weight maintenance, in-shell pistachios provide nutrient density and satiety, necessary to curb appetite so they feel full longer.